HOME >> PRODUCTS >> SINTERED SS POROUS COMPONENTS
AICEN sintered SS porous components are made of irregularly shaped flake powders of stainless steel material. By pressing as shaped as requested, then sintering at a temperature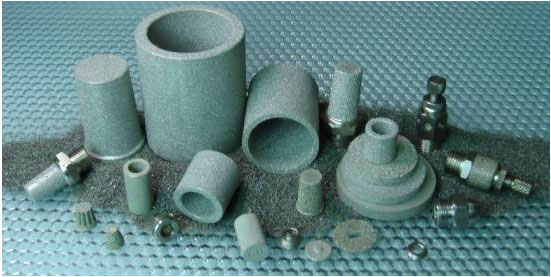 below the melting point makes strong bonding by diffusion throughout the structure of the component.
AICEN sintered SS porous components are used in Filtration, Separation, Throttling, Dispersion, Damping, Protecting, Equalizing and Silencing, mainly as filters, to control fluid and gas flows, flame resistors, and silencers.
Our standard products include porous discs, cups, tubes, sheets, and bushings.
Material Data Sheet: Stainless Steel powder, stainless ball
Material No.

Chemical Compositions

Mechanical properties

C(max)
%

Mn(max)
%

P(max)
%

S (max)
%

Si(max)
%

Ni
%

Cr
%

Mo
%

T.S (min)
psi (kg/mm2)

Y.S (min)
psi (kg/mm2)

EL.(min)
%

Red (min)
%

AISI-304

0.08

2.00

0.040

0.030

1.00

8.0-11.0

18- 20

--

75.000
(52.7)

30.000
(21.1)

45

50

AISI-304L

0.035

2.00

0.040

0.030

1.00

8.0-13.0

18-20

--

70.000
(49.2)

25.000(17.6)

30

50

AISI-316

0.08

2.00

0.040

0.030

1.00

10.0-14.0

16-18

2.0-3.0

75.000
(52.7)

30.000
(21.7)

45

50

AISI-316L

0.035

2.00

0.040

0.030

1.00

10.0-15.0

16-18

2.0-3.0

65.000
(45.7)

25.000
(17.6)

30

50
Engineered stainless steel assemblies